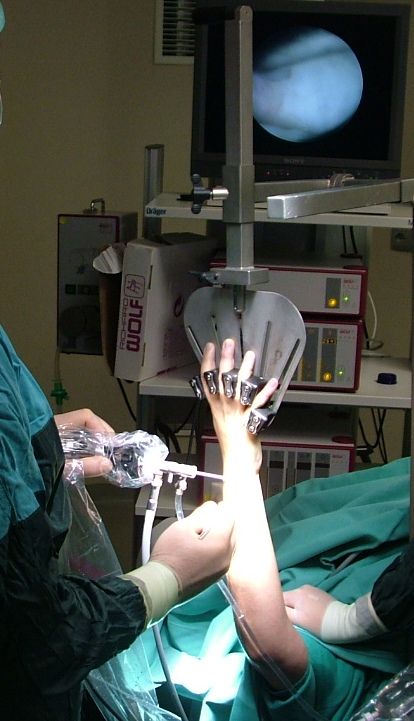 WRIST SURGERIES PERFORMED BY CAMERA
The wrist has a complex structure which consists of many bones and ligaments. Various diagnoses can be made about the  surgery to be performed later with wrist arthroscopy. Thus, some injuries can be treated with the help of special tools. Wrist arthroscopy has become very common method with the development of surgical instruments and techniques in recent years. Wrist arthroscopy decreases the tissue damage, pain, swelling and limitation of movement after the surgery compared to open surgery. Thus recovery after surgery is faster.
In wrist arthroscopy very thin cameras (2.7mm or 2.4mm) are used. The camera is inserted to wrist from a small cut and intraarticular is observed by enlarging the image and it is transferred to the TV screen via camera. During the operation, the joint space is opened by using special traction systems in order to enter with the camera and instruments into this small joint space. By applying gas or liquid into the joint, structures are made visible. Sometimes, arthroscopy can be used at the same time with open surgery in order to avoid further soft tissue damage. Wrist arthroscopy reveals position changes between the bones of the wrist, all the cartilage surfaces and ligaments between bones. Sometimes pain, movement limitation, abnormal sound and swelling continues for a long time after traumas. In the presence of these problems, arthroscopy is a very useful method for verifying the diagnosis, determining and evaluating the damage after various tests and for the decision of the tratment option.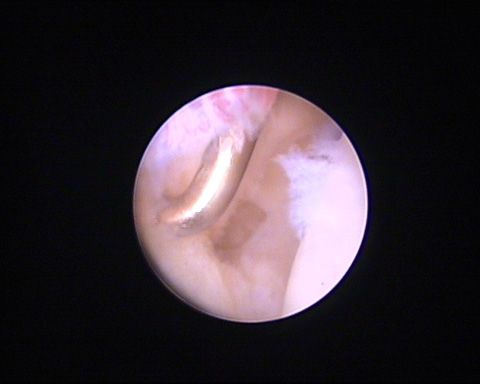 The wrist has a meniscus structure called TFCC (triangular fibrocartilage, or wrist meniscus) which is assigned of transferring the loads from the wrist to the forearm like knee. This meniscus is semilunar and it does not have a vascular structure to provide its own nutrition. Circulation is happened by external absorption. Therefore, injuries that occur the in areas with less flushing on the inner side are difficult to heal. Wrist arthroscopy is the best treatment for the diagnosis and treatment of these lesions.
Wrist arthroscopy is useful in evaluating and correcting the joint surface after fractures extending to the wrist joint.
It can be used to treat the wristswelling (ganglion). Wrist is a very effective method for cleaning and washing the inside of the wrist in intra-articular inflammations. It can be used for cleaning of intraarticular synovial structures and washing joints in some rheumatic events. Wrist arthroscopy  is generally performed via axillary (axillary block)anesthesia. Sometimes the patient may be fully anesthetized. Generally the patient is discharged in the same day. Brace is applied after the surgery. The fingers are allowed to be used immediately after the operation. Patients are allowed to return to their normal activities after 7-10 days if no other procedure is performed. Wrist arthroscopy is a method that increases patients comfort and provides treatment with minimal risk of surgery and soft tissue damage.